These days many of us are living and working in urban areas (sometimes well above the ground level), giving us much less time with nature. We know that indoor plants can improve our health and Vertical Garden Designs are a perfect way to bring the outside in.
Greenwalls, Living Walls, Plant walls, Vertical Gardens... There are so many different ways to bring the outside in now. We thought we'd highlight a few of our favourites.
Here are 5 Inspirational Vertical Gardens that we love. For a more comprehensive guide to Vertical Gardens and their benefits, download our Guide to Greenwalls.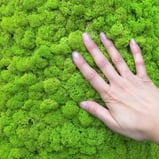 Who doesn't love moss? Moss walls are virtually maintenance-free and they look fantastic all year round. They can function as effective acoustic panels and wonderful air filters, and they absorb their water from the air. If that wasn't enough, they are also fire safe!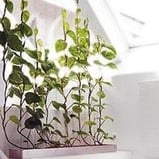 Vertical climbers are cleverly trained climbing plants that can cover up a wall or create a fantastic space divider. They make a dynamic statement that grows and changes as the plants spread and mature, just like living art.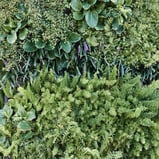 These stunning green panels may looks like a gorgeous piece of art, but they are much more than just a pretty face. They can reduce street and interior noise and act as a living and breathing filter for toxins. Plants have also been shown to reduce stress, improve our health and induce feelings of well-being. Green Wall panels are pre-grown plant panels that are custom fitted to create a seamless wall of plants.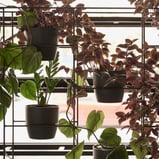 Green Racks are usually a fabricated steel frame that holds multiple pots and plants. They can be freestanding, attached to a wall, or even hang off a wall or ceiling. They are a clever way to partition your office or create a visual barrier at an entranceway, without losing any precious sunlight. And they look fabulous!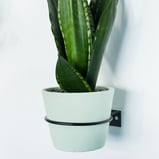 A good Wall Mounted Planter will be designed with the customer in mind. Thoughtfully placed, they are an artistic addition to your home, office, studio or retail space. A stylish planter deserves a appealing plant, so make sure you complete the picture with one of the coolest plants trending now.

Want more options? Download our

Guide to Greenwalls

for a comprehensive guide to the different vertical garden designs that are available for your space.